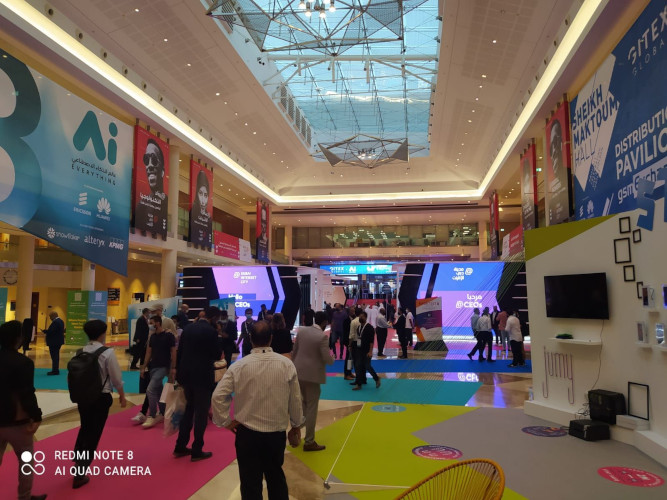 GITEX in Dubai: Tech news and packed halls
Visitors jostle in the exhibition halls at the World Trade Center in Dubai. Gitex 2021 is the world's largest IT trade fair this year. No wonder, the tech event CES in Las Vegas did not take place due to Corona. As usual, imcopex colleagues were also present in Dubai and informed themselves about ICT industry innovations.
This year, the largest IT trade fair in the Middle East and Africa attracted 3,500 exhibitors from 140 countries to the Expo City Dubai from 17 to 21 October. In 2020, 100.000 visitors were counted, this year the dimensions were probably similar.
Gitex is known for its pompous exhibition stands of regional telecommunication providers as well as ministries and government agencies. Visitors discover products and services from the following areas: Printing Solutions, Artificial Intelligence (AI), Blockchain, Consumer Electronics, Smart Workplace and Smart Cities.
Gitex aims to advance global digitalisation and empower retailers and manufacturers in the UAE. Regarding the UAE's 50th anniversary, ministers, directors-general and high-ranking officials were present in lectures and discussion panels.
Empowering youth and women
The GITEX YouthX concept gives students the chance to make business contacts and land an internship with a well-known brand. "TEENS-IN-AI" was founded to introduce the topic of artificial intelligence to 12- 29-year-olds.
The TiE Women pitch competition elects start-ups led by women in a competition. The prizes include money, contacts to investor networks and advice on further development. The first prize in 2021 went to the medtech start-up Inochi Care with prize money of US$ 100.000, followed by Ahammune Biosciences (US$ 25.000) in second place and WeavAir (US$ 10.000) in third place.
Picture: Gitex 2021 showed new tech trends, also in the field of ICT.
Photo source: Ömür Kara, Sales imcopex